Vil robotene overta planeten vår?
Vil vi snart kunne kople hjernene våre til roboter, maskiner og computere? Trådløst? Lage roboter som er smartere enn oss, som kan løfte 100vis av kg, "leve" så lenge de vil, og bevege seg i hastigheter over 100 km/t? Med brenselceller som lagrer 1000vis av kWt energi slik at de kan operere i uker, måneder og år uten å trenge lading?
Og vil kunstig intelligens kunne løse komplekse, abstrakte og ekstremt kraftkrevendee problemer på sekunder? Male hytta? Ta inn båten? Kjøre bil? Pleie pasienter? Lufte hunder? Lage frokost? Vaske huset og re senga? Holde vakt? Krige?
Kort sagt: Vil robotene en dag bli som oss? Bare sterkere og smartere?
I denne artikkeloen diskuterer vi den sannsynlige fremtiden for roboter og autonome maskiner. En del av det som tas opp kan virke som ren science fiction, men er, som vi skal se, nærmere enn mange tror.
Først en introduksjon. Videoen under (www.youtube.com) gir et inntrykk av hva næringsliv og akademikere mener vi kan ha i vente mht roboter og automatisering de neste få årene.
Som videoen viser vil dagens robotgressklippere og -støvsugere blekne i sammenlikning med hva vi har i vente. Og ønsker man å se mer kan man søke på www.youtube.com med ord som f eks "autonomous robots", "smarest robot" eller "funniest robot".
Den forventede utviklingen
La oss se på forventet teknologisk og relevant demografisk utvikling, og spørre hvordan samfunnet vil kunne endre seg dersom roboter blir vanlige og kanskje til en viss grad erstatter oss biologiske mennesker. Noen mener at dette faktisk er i ferd med å skje.
Biologiske mennesker er antatt å nå en tallmessig topp på ca 11 mrd individer (kilde: FN). I den vestlige verden har befolkningsveksten stoppet helt opp for mange år siden. FN skriver: Growing at a slower pace, world population is expected to reach 9.7 billion in 2050 and could peak at nearly 11 billion around 2100.
Hvis veksten i roboter blir slik enkelte fremtidsforskere tror, kan antall robot-"mennesker" etterhvert bli stort. Hvis en robot til f eks kr 200 000 kan vaske huset, lufte bikkja, handle inn mat, og generelt hjelpe til med tunge løft og praktiske oppgaver i hjemmet, ville du vurdert å kjøpe en? Og hvis prisutviklingen blir som for PC'er og mobiltelefoner, vil den fort kunne koste kr 50 000. Hvis den da er trygg og lett å vedlikeholde kan kanskje mange komme til å vurdere å anskaffe en til denne prisen. Eller en brukt en på Finn.
Det er en stund til slike roboter er til salgs. Men roboter har mange bestanddeler som minner om datamaskiner, så det er ikke helt usannsynlig at utviklingen fra dagens industriroboter, som vi finner på steder som fabrikker og lagre, til menneske-liknende, autonome roboter kan gå ganske fort.
DEN TEKNOLOGISKE UTVIKLINGEN
Datarevolusjonen, som startet rundt 1960 da halvlederen ble industrialisert, har revolusjonert verden ved å gjøre enorme mengder avansert programvare og prosesseringskraft tilgjengelig for så å si alle til en overkommelig penge. Men det var ikke alle som trodde på det. IBMs styreleder Tom Watson uttalte følgende i 1958: "I think there is a world market for about five computers". Han tok som kjent grundig feil.
Man kan more seg med flere slik spådommer her: https://www.pcworld.com/article/155984/worst_tech_predictions.html.
I Norge er "Internett er en flopp" leserinnlegget i DN fra 1996 en klassiker, og enda litt mer teknologi-spådoms-moro finner man her: https://www.tek.no/nyheter/nyhet/i/K3emzX/10-tekno-spaadommer-som-slo-helt-feil
Sentralt i den raske utviklingen står alt fra materialteknologi og dataprogrammering, til finansiering av teknologi-oppstarts-firmaer og forskningsprogrammer, offentlige såvel som privat, innen relevante fag. En berømt "lov" om hastigheten i utviklingen av antall transistorer på en integrert mikrokrets er Moore's lov:
Moore's Law refers to Moore's perception that the number of transistors on a microchip doubles every two years, though the cost of computers is halved. Moore's Law states that we can expect the speed and capability of our computers to increase every couple of years, and we will pay less for them. Another tenet of Moore's Law asserts that this growth is exponential.
En annen berømt person, Bill Gates, grunnleggeren av Microsoft og en av verdens rikeste personer, hadde et beslektet mantra: Lag så kompleks programvare (software, SW) som overhodet mulig. Maskinvaren (hardware, HW) vil utvikle seg eksponensielt i prosesseringskraft (Moore's law) uansett, så det som virker som treg SW i dag vil være lettbent og rask i morgen fordi HW'n er så mye kraftigere.
Kunstig intelligens og datamaskiner egnet for roboter utvikler seg voldsomt, også i dag etter så mange tiår med rask vekst. Dersom teknologier som materialer, batterier, sensorer (lyd, lys, radio, luft og trykk, bevegelse mm), kognitiv forståelse og integrerte systemer (lage "armer" og "ben" f eks) får en utvikling som bare likner datamaskinens, vil vi i overskuelig fremtid se roboter som er svært kabable. Såpass kapable at det for mange vil være skremmende: Hva med jobben min? Er de farlige? Vil de bli brukt i krig? Og mye annet. For info: Ubemannede drone-bombefly brukes allerede i dag.
HVA ER EN ROBOT?
For å definere hva en robot kan være, er følgende klassifisering nyttig. Det er ikke alle roboter som likner mennesker og går rundt på to ben.
| | |
| --- | --- |
| Robotics term | Meaning |
| Androids | Humanoid robots built to aesthetically resemble humans. |
| Augmented human | Human augmentation (Human 2.0) focuses on creating cognitive and physical improvements as an integral part of the human body. Human augmentation is generally used to refer to technologies that enhance human productivity or capability, or that somehow add to the human body. |
| Bipedalism | A form of terrestrial locomotion where an organism moves by means of its two rear limbs or legs Types of bipedal movement include walking, running, or hopping. |
| Brain Computer Interface | A brain-computer interface (BCI), sometimes called a neural-control interface (NCI), mind-machine interface (MMI), direct neural interface (DNI), or brain-machine interface (BMI), is a direct communication pathway between an enhanced or wired brain and an external device. BCI differs from neuromodulation in that it allows for bidirectional information flow. BCIs are often directed at researching, mapping, assisting, augmenting, or repairing human cognitive or sensory-motor functions. |
| Cyborg | A contraction of "cybernetic organism", is a being with both organic and biomechatronic body parts. A person could be considered a cyborg when they are outfitted with implants such as artificial heart valves, cochlear implants or insulin pumps. A person could even be called a cyborg when they are using specific wearable technologies like Google Glass, or even using laptops or mobile devices to do work. |
| EEG | An electroencephalogram (EEG) is a recording of brain activity. During the test, small sensors are attached to the scalp to pick up the electrical signals produced when brain cells send messages to each other. |
| Humanoid | A robot with its body shape built to resemble the human body, or an animal's body |
| Hybrid human / cyborg | Bio human with a certain number of robot parts augmenting the brain and the body, thus making a "bio android", ie an andriod but made from the bio side |
| Neuroprosthetics | A discipline related to neuroscience and biomedical engineering concerned with developing neural prostheses. They are sometimes contrasted with a brain–computer interface, which connects the brain to a computer rather than a device meant to replace missing biological functionality. |
| Robot | Any automated machine capable of performing functions, tasks or services |
Så en robot kan være alt fra en gressklipper til en menneskeaktig, "tenkende" maskin, en autonom robot, eller en maskinelt fremstilt kroppsdel som er koplet til mennesket. Som en arm eller et bein. Det finnes flere slik eksempler i dag. Man kan også si at smart-telefonen er en slags "augmented human" maskin eller robot sekv om den ikke er koplet direkte til hjernen via radio eller ledning men bruker lys via øyet.
THE RISE AND FALL OF THE BIOLOGICAL HOMO SAPIENS
Vi skal nå innom et annen beslektet, fascinerende aspekt, nemlig det om den forventede utviklingen av det 100% biologiske mennesket. Allerede i dag bruker vi bl a pacemakere, kroppsimplantater, briller, hjelpemidler festet til kroppen, som armer og bein, høreapparater, og mye annet. Man tenker ikke på dette som roboter, men i hht klassifikasjonen over er de det.
Gitt følgende udiskutable fakta:
Verdens befolkning slutter å vokse og blir eldre.
Den teknologiske utviklingen inne robotteknikk er

rivende

.
Eldre mennesker trenger mer pleie og helsehjelp, og det blir færre mennesker til å utføre disse jobbene.
Roboter kan brukes til å utføre oppgaver i menneskehetens tjenester, som roboter og maskiner allerede gjør i dag.
Roboter kan brukes til å både fikse menneskekroppen, og til å gjøre den "bedre" til å funksjonere. Både fysisk og kognitivt.
Er den innlysende konklusjonen at bio-menneskene gradvis vil falle i antall mens både autonome (selvstyrende) roboter og robot-forsterkede mennesker vil vokse? Det ser sånn ut.
EKSEMPLER PÅ AVANSERTE ROBOTER I DAG
Boston Dynamics er et firma i USA som allerede i dag bygger svært avanserte roboter. De er to- eller firbente, kan slå baklengs salto, løfte pakker, rydde, gå i trapper, løpe i 50 km/t, gå tur med andre roboter eller mennesker, bære tunge ting og bevege seg raskt i terrenget, drive med idrett, og mye, mye annet.
I militær sammenheng har ubemannede og helt eller delvis autonome droner vært vanlige i mange år. Selvkjørende kjøretøy og båter er i økende grad i bruk, og "soldater" er i emning.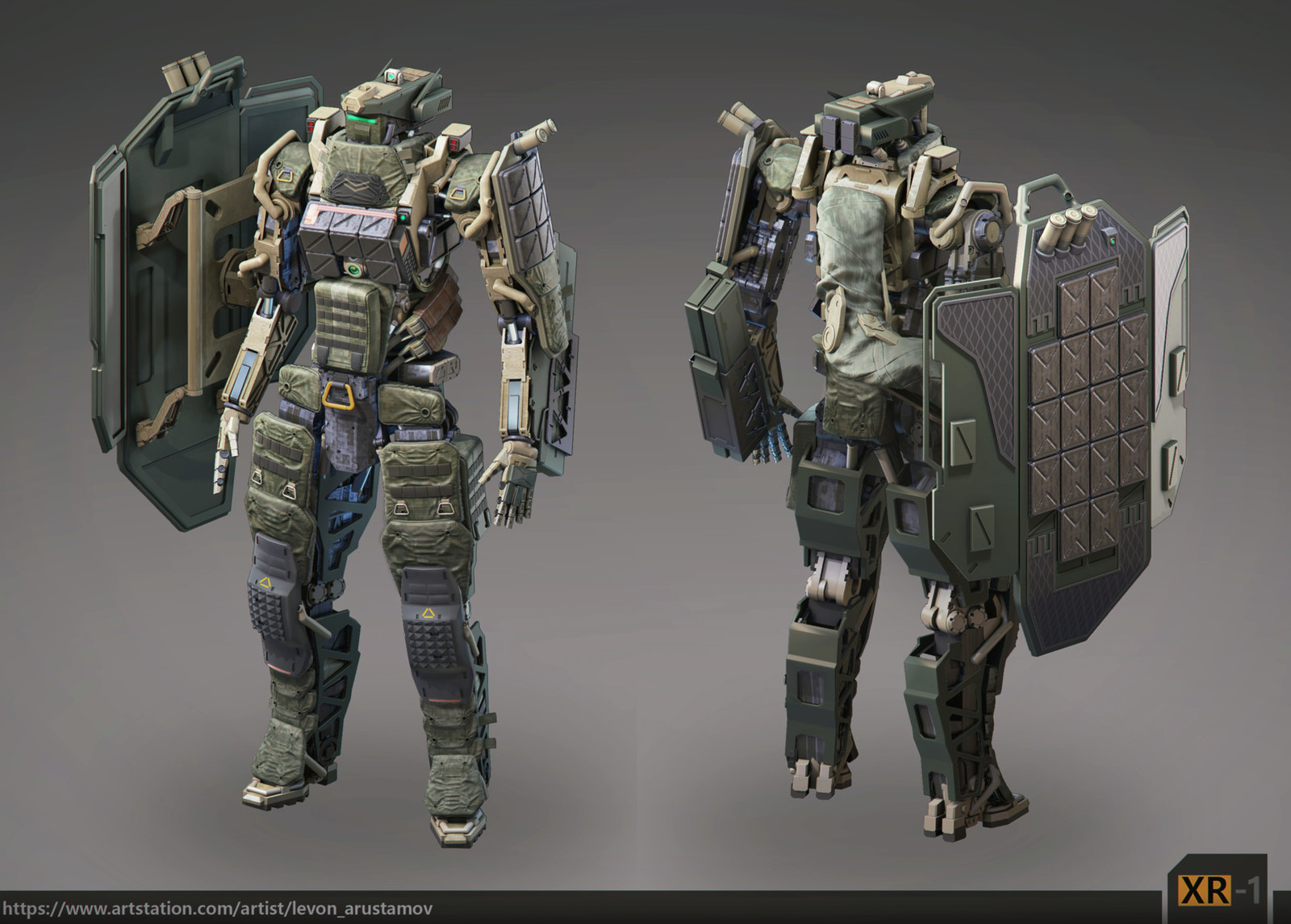 Vi har enkle små gressklippere og støvsugere som stadig blir bedre.
Og den mer kraftige sorten.
Hjemmeroboter som er i emning.
For ikke å snakke om landbruket.
MENNESKELIKNENDE ROBOTER
Hvis man tar en menneskeliknende robot fra Boston Dynamics og ikler den syntetisk hud og lar den likne på et menneske med hår, øyne, munn og ører, er man allerede i dag ganske nære en androide, altså en robot som likner et menneske utseendemessig. Oppførselsmessig er det et stykke igjen, men det skal vi se nærmere på senere.
Søker man på Boston Dynamics Robots på Youtube ser man hvor langt det er kommet. Det er til å ta pusten fra en. Mildt sagt.
Her er et godt eksempel (til venstre). Faktisk fikk den statsborgerskap og oppholdstillatelse i Saudi Arabia (ref Huffpost Australia).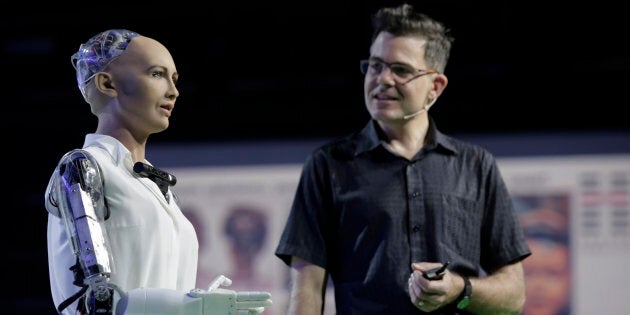 Og det er ikke alltid godt å vite hvem som er hvem.
EKSEMPLER PÅ ROBOT-FORSTERKEDE MENNESKER
I stedet for å bygge en ren syntetisk maskin kan man ta utgangspunkt i et biologisk menneske og forsterke det med robotteknologi. Det kan være alt fra kroppsdeler som (deler av) armer og bein til hjelpemidler som pacemakere og insulinregulatorer.
Men fra det å forsterke kroppen og/eller regulere enkelte biokjemiske prosesser til det å kople seg til sansene og hjernen er det et ganske langt skritt. Men se på disse eksemplene.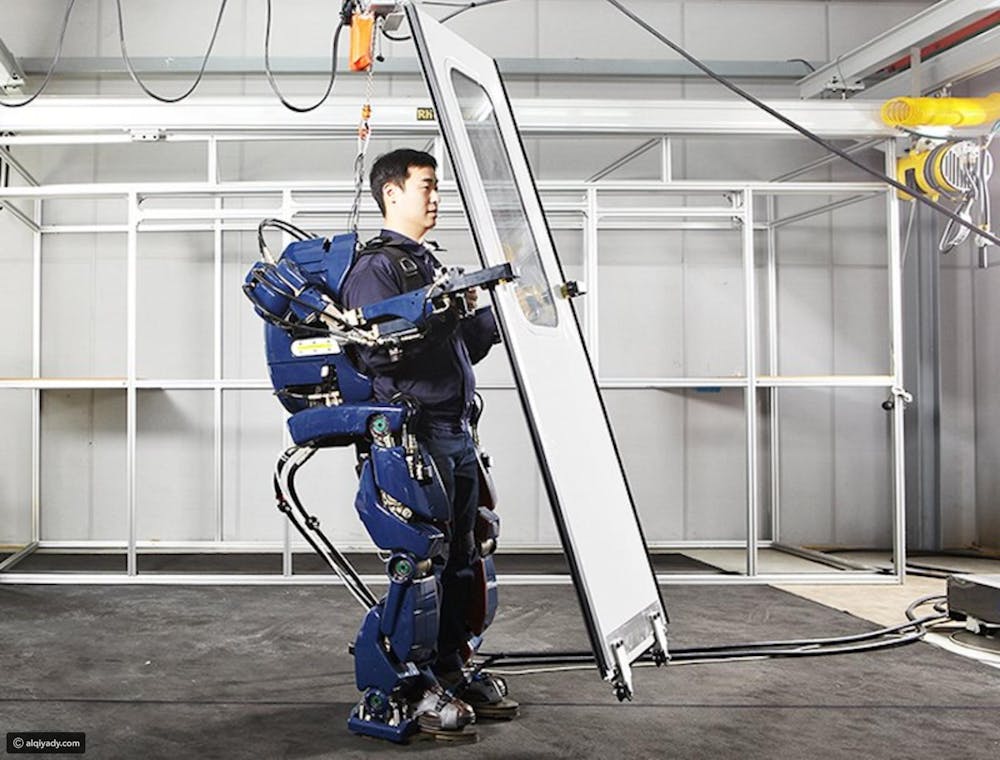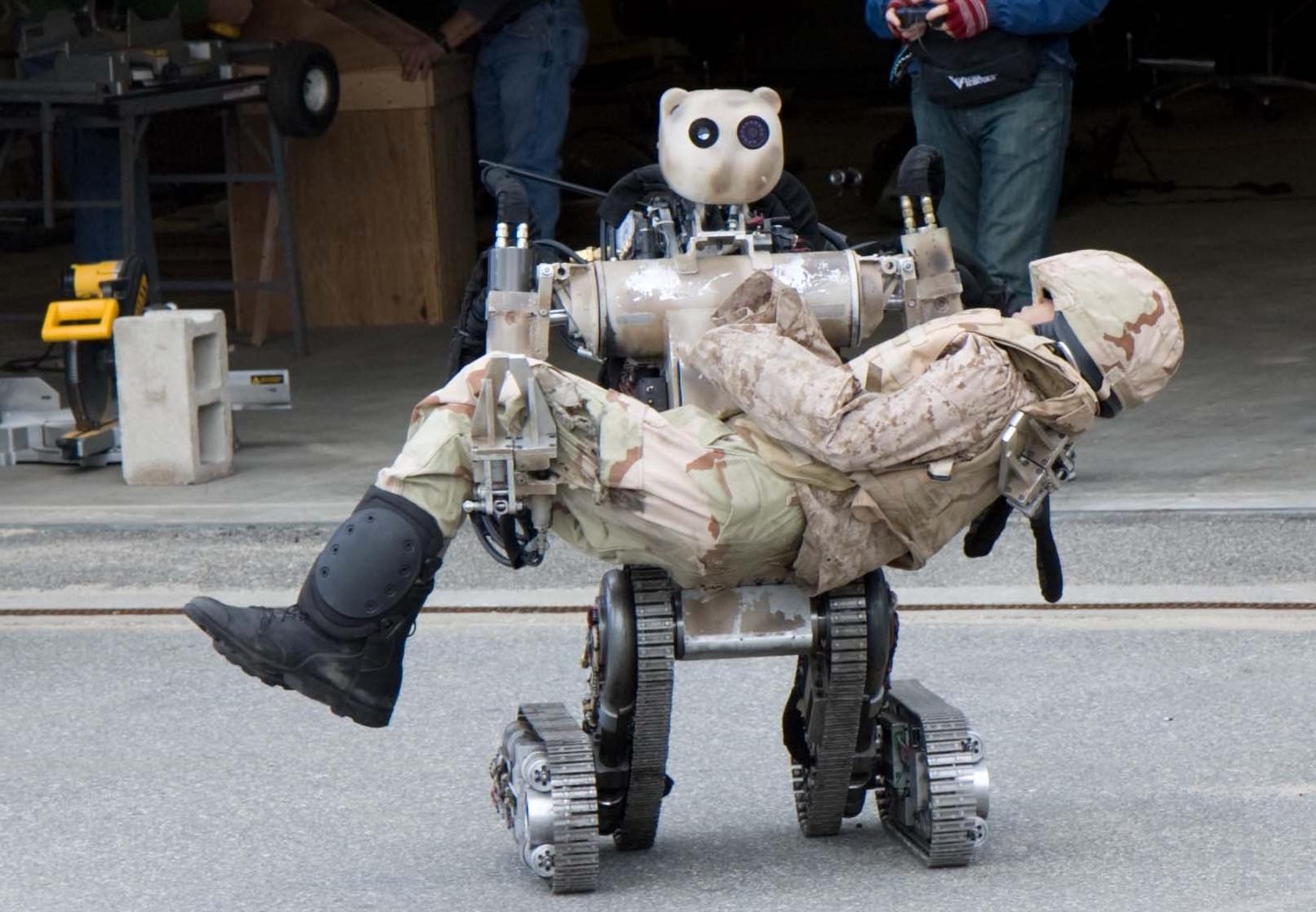 SOSIALE ASPEKTER VED ROBOTER
Hvor går grensen mellom et biologisk menneske og en robot? Er man mindre menneskelig med en pacemaker i kroppen? Eller når man bruker en iPhone til å hjelpe til med å huske ting, snakke med andre langt borte, eller sjekke blodtrykk og døgnrytme, osv? Eller hvis man har en protese som et "selvgående bein" koplet så tett til kroppen at den må sies å være en del av den?
Eller hvis man tar medisiner og vaksiner? Antidepressiva for å bli lykkeligere? Vet ikke. Men å leve enklere har alltid vært et mål for mennesket, og hjelpemidler har vært en viktig del av å oppnå det. Og nå later hjelpemidlene til å ta et kvantesprang hva angår funksjonalitet og kroppsnærhet.
Og så til det å "møte" og ha med roboter å gjøre. Alle som har vært innom et moderne sykehus og fått fikset noe på kroppen sin har vært i tett interaksjon med roboter. De kan ikke snakke eller oppføre seg som et menneske enda, men de kan utføre uhyre komplekse og avanserte operasjoner på mennesket, samt lese av hjerneaktiviteten og fotografere ørsmå organer langt inne i kroppen.
Så en slags konklusjon kan være at vi pt i vårt samfunn aksepterer roboter nære kroppen så lenge de er rent funksjonelle, som en pacemaker, eller "nære men dog utenfor kroppen", som en iPhone.
I det vi begynner å styre hjernen, seriøst endre kognitive evner, eller sette inn et syntetisk hjerte eller andre organer som gjør at vi kan leve veldig mye lenger er det noe annet. Selv om både hjerter, nyrer og andre organer transplanteres i dag, uten at noen ser på personen som noe mindre menneskelit.
I filmen Blade Runner sliter de med å se forskjell på vanlige bio-mennesker og Replicants, med dramatiske konsekvenser. Severdig!
SENTRALE ROBOT-TEKNOLOGIER
Soldater. Spinmning Jenny. BCI. Sensorer.
Toyota has a nice one: https://www.youtube.com/watch?v=xt1ILFe_Gg8.
And here is another very good one: https://www.youtube.com/watch?v=0XmUaHf-11A.
ASIMO is a humanoid robot created by Honda in 2000. Since then it has been continually developed and has become one of the worlds most advanced social robots.
ASIMO has the ability to recognise moving objects, postures, gestures, understand its environment, and interact with humans.
Unique Features: ASIMO is currently the most physically capable social robot with the ability to walk, run and even use the stairs.
PEPPER. Introduced in 2014 Pepper was showcased in Softbank's mobile stores in Japan and has become introduced in Renault dealerships across France.
Unique Features: Pepper is the world's first robot that is capable of recognising human emotions. Pepper is social, capable of having conversations with people, giving them directions and even dancing with them.
https://en.wikipedia.org/wiki/Brain–computer_interface
The following is breathtaking R&D news:
Due to the cortical plasticity of the brain, signals from implanted prostheses can, after adaptation, be handled by the brain like natural sensor or effector channels. Following years of animal experimentation, the first neuroprosthetic devices implanted in humans appeared in the mid-1990s.
Recently, studies in Human-computer interaction through the application of machine learning with statistical temporal features extracted from the frontal lobe, EEG brainwave data has shown high levels of success in classifying mental states (Relaxed, Neutral, Concentrating), mental emotional states (Negative, Neutral, Positive) and thalamocortical dysrhythmia.
It means that we are capable of (a) connecting sensors to the brain upon which the body can respond, and (b) that we can "read out" bodysensor information to an external device. This is fantastic news for those targeting robot humans.
A robot doen't have to be a Terminator-like, frightening, gun-handling humanoid. It could be a vacuum cleaner, a vending machine, a parcel despatch machine, or an airplane. Despite the fact that Hollywood loves to make scary movies about futuristic the-robots-has-taken-our-planet stories, most robots are harmless. Lawn mowers and vacuum cleaners, for instance.
A robot can act like a human without actually trying to copy it.
What about a "tidying the beds" robot in an old people's home? It would free up heavy work and time for the nurses and could be made to look more like R2D2 from Star Wars than the terrifying and frightening Terminator.
Actually, we have a lot of simple robots around us today, from ticket machines to vending machines. Just because the machines below are "simple", they perform the essence of what a robot is expected to do: something boring and tedious thereby allowing the human to do what it is best at: talking to the customers and taking care of other people's feelings and perceptions.
The "robot" on the picture above is simple and does by no means look like a human, and it is important to accept that we do not mean humanoids when we use the term robot.
And here's the gas filling robot: https://www.youtube.com/watch?v=3y_J7fg03fA.
Physical/fixing: Like the pacemaker.
Cognitive: Like an iPhone or a computer connected to your brain in some way.
Skillbased: enhancing your body to do "non-human things", eg lifting 200 kg.
Political: Id, passport, CCTV etc coupled closely with or implanted into your body.
Romantic: Making you a more likable, good-looking or well-behaving human.
Psychological/psychiatric: Changing your mood or fix your mental illness, eg calming down a bipolar disorder or simply fixing a depression, a manic episode or a schizophrenia.
Combining it all: The Humanoid Robot. Maybe with an on/off switch.
Likely evolution steps of our societies
This is very simple indeed seen from a tech perspective.
Population stops growing and gradually declines in numbers.
Retirement age must be increased, but what shall they do?
GDP falls in absolute numbers and health budgets explode av %age of GDP.
To keep health budgets under control: Keep people fit and make them stay at home.
Robot technology is key to achieve these two goals and will be sought after and developed.
The demise of the bio-human is inevitable by 2100-2200.
The 22nd century will see a mix of bio and robot humans with lots of automated, selv-moving, autonomous robots "everywhere". Just look at Japan and Tokyo today: automated.
What if we could augment Sam and his fellow bipolar associates so that bipolar only holds advantages and not any disadvantages? Tom Wooton talks about the Bipolar Advantage – not the Disadvantage. Bipolar In Order.
The advantages are obvious
Intelligence https://www.bionews.org.uk/page_95162
Creativity 1 https://www.healthline.com/health/bipolar-disorder/famous-creative-people
Creativity 2 https://www.psychologytoday.com/intl/blog/owning-bipolar/201906/creativity-in-bipolar-disorder-fabulous-or-fatal
While the disadvantages …
They include irritability, carelessness, poor impulse control, and increased substance abuse. The so-called advantages of mania can fool many people, including the patient with bipolar disorder. Patients often cite these positive experiences as reasons for not taking the medications that keep their mood stable.
So, to make bipolar persons zuper-humans with high IQ and creativity and none of the disadvantages listed, we could either
Give them a PA (personal assistant) which could remind them of the disadvantages when they are about to show themselves, eg as a manic episode?
Augment the brain with a "what do I do now" sensor to make bipolars sense the episode before it starts?
When, not if, this is possible, bipolars can combine IQ and creativity with a stable mood.
Super-humans! No more pills 🛑 https://www.youtube.com/watch?v=5oFEuP5dLso 😊
Energy needed to operate the devices: Portable kiloWatt hours (kWh)
With RFIDs which really are simple transponders, energy is solved. It is simply not needed.
But a proper robot needs energy. How much? If a BMW i3 can run 200 km on 30 kWh, which it can, then a home robot with charging facilities readily available should be ok with 1 kWh: it weights ca 1/10 of the car maximum, and 10 km should be an ok "range". As a starting point at least.
So let us say it has plenty of energy with a 2 kWh battery.80 Ah at 24V = 1.92 kWh and weights ca 8 kg. For a bio human 8 kg is too much to carry around on a daily basis, but for a humanoid it's not a big problem.
So battery electric is ok for home applications. It is also rather safe compared with hydrogen and nuclear fusion fuel cells. The former is heavy and explosive, while the latter (fusion) would be ideal. But that is a few more years down the road and into the future.
Fusion power is a proposed form of power generation that would generate electricity by using heat from nuclear fusion reactions. In a fusion process, two lighter atomic nuclei, eg H, combine to form a heavier nucleus, eg He (like the sun) while releasing lots of energy. Devices designed to harness this energy are known as fusion reactors. Or hydrogen bombs ☹
Another alternative for an augmented human is body heat converted to electricity, eg via the clothes. Human current and/or energy is turned into electricity like eg this company's product:
Brain Computer Interface and comms between AI computer and Brain
The really difficult (although nothing's easy) but also key key key important issue wrt robotics is to connect the AI computer to the human brain so that the two brains together can process both human sensors (sight, hearing etc) and external electromechanical sensors like HD TV, infrared for night sight etc.
This drawing is from a 2004 paper. Here is a more modern figure.
By reading out EEG signals the AI computer kan communicate with the brain and send it "commands". A good example of a command would be "Don't get so bloody irritable! Remember – your bipolar!" 😊
Although from 2012, this article is interesting. https://www.ncbi.nlm.nih.gov/pmc/articles/PMC3497935/.
The abstract reads as follows:
Brain-computer interfaces (BCIs) acquire brain signals, analyze them, and translate them into commands that are relayed to output devices that carry out desired actions. BCIs do not use normal neuromuscular output pathways. The main goal of BCI is to replace or restore useful function to people disabled by neuromuscular disorders such as amyotrophic lateral sclerosis, cerebral palsy, stroke, or spinal cord injury. From initial demonstrations of electroencephalography-based spelling and single-neuron-based device control, researchers have gone on to use electroencephalographic, intracortical, electrocorticographic, and other brain signals for increasingly complex control of cursors, robotic arms, prostheses, wheelchairs, and other devices. Brain-computer interfaces may also prove useful for rehabilitation after stroke and for other disorders. In the future, they might augment the performance of surgeons or other medical professionals. Brain-computer interface technology is the focus of a rapidly growing research and development enterprise that is greatly exciting scientists, engineers, clinicians, and the public in general. Its future achievements will depend on advances in 3 crucial areas. Brain-computer interfaces need signal-acquisition hardware that is convenient, portable, safe, and able to function in all environments. Brain-computer interface systems need to be validated in long-term studies of real-world use by people with severe disabilities, and effective and viable models for their widespread dissemination must be implemented. Finally, the day-to-day and moment-to-moment reliability of BCI performance must be improved so that it approaches the reliability of natural muscle-based function.
Until recently, the dream of being able to control one's environment through thoughts had been in the realm of science fiction. However, the advance of technology has brought a new reality: Today, humans can use the electrical signals from brain activity to interact with, influence, or change their environments. The emerging field of brain-computer interface (BCI) technology may allow individuals unable to speak and/or use their limbs to once again communicate or operate assistive devices for walking and manipulating objects. Brain-computer interface research is an area of high public awareness. Videos on YouTube as well as news reports in the lay media indicate intense curiosity and interest in a field that hopefully one day soon will dramatically improve the lives of many disabled persons affected by a number of different disease processes.
This review seeks to provide the general medical community with an introduction to BCIs. We define BCI and then review some of the seminal discoveries in this rapidly emerging field, the brain signals used by BCIs, the essential components of a BCI system, current BCI systems, and the key issues now engaging researchers. Challenges are inherent in translating any new technology to practical and useful clinical applications, and BCIs are no exception. We discuss the potential uses and users of BCI systems and address some of the limitations and challenges facing the field. We also consider the advances that may be possible in the next several years. A detailed presentation of the basic principles, current state, and future prospects of BCI technology was recently published.
The state of society which we are approaching is quite simple in technological terms. And it is not the end of it all: Robotics technology will out-perform human performance by far, and as a schrinking bio-human population we will use robotics to improve our lives.
skrun av følelsene. crack the feeling code. fobier.
spinning Jenny